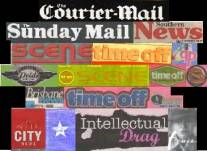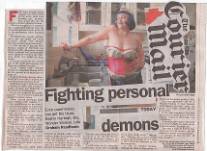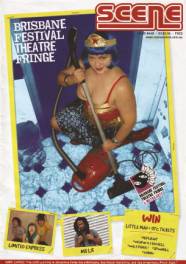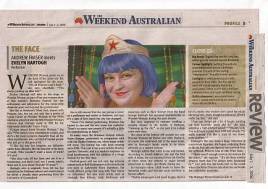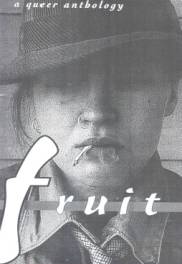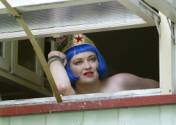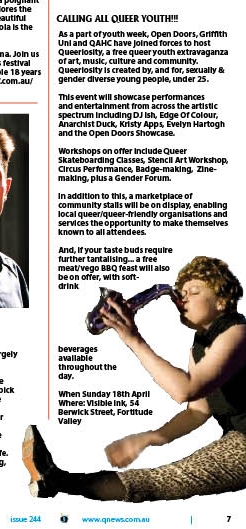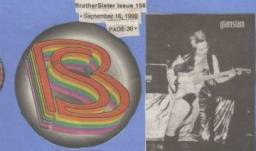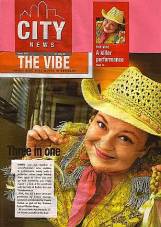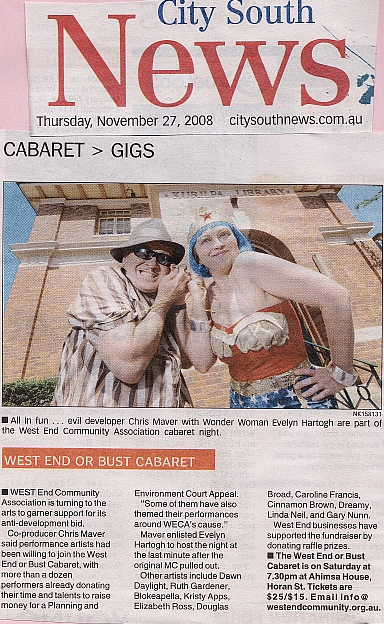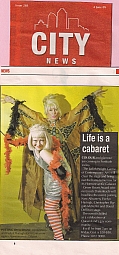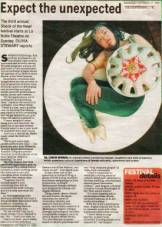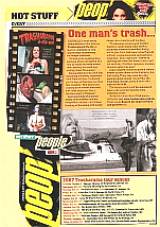 BIO SHEROES FANPAGE SHOWREELS INTERVIEWS FLYERS GIGS
REVIEWS SCRIPTS DOCUMENTATION ART PUBLICITY RESUME SURPRISE
(1992-2021)
2021
2021 13 January 2021 ASTRO ALL-STARS The Astrology And Herstory Of Wonder Woman And Sheroes With Empressev SUNSHINE STATE OF MIND EPISODE #11 YOUTUBE VIDEO
PART 1 is the astrology of Wonder Woman, Linda Carter, Gal Gadot, and director Patty Jenkins.
PART 2 is an interview with classic Aquarius, Academic/Scholar, writer and film & cultural critic, Wonder Woman memorabilia collector Evelyn Hartogh BA MA MA. Evelyn has a book in the works about Sheroes which we are all ready for. We discuss the history of of Wonder Woman, the evolution, the villains, the ancient Amazon inspiration, & who they really were!
2019
2019 July 8 Meet Evelyn, a new Frolic Festival volunteer Evelyn is a recent arrival to Ballarat and we're so glad she chose Ballarat when deciding to escape Brisbane (though we understand it's been quite the adjustment temperature-wise!). Already jumping in to help out as a Frolic volunteer you may have met her during the Ballarat Heritage Weekend where she warmly welcomed people to the queer history exhibition and made sure they left with a Frolic Festival Save the Date flyer in their hand.
2013
2013 November 13 Davina & Ruth Interview Evelyn Hartogh about the upcoming Healthy Communities Fundraiser Art Show DYKES ON MIKES
2010
2010 Nov 10 Sunday Best The West End Way WESTENDER p.28-9."Wonder Woman greeted the parade and provided sartorial and satirical commentary thoughout the event. "I am pleased to see people of different ages and sub cultures celebrating dressing ups" said Wonder Woman."
2010 Oct 13 Strike a Pose for Sunday Best Costume Parade WESTENDER p.7.
2010 Aug 18 (photo only) Trash Video Icon 3D WORLD p. 24.
2010 August (photo only) Cabaret Q DOVETAIL Issue 2# p.16-19
2010 June Awesome Grrrls Launch Party LOTL p.30.
2010 April 9 Calling all Queer Youth QNews #244 p.7.
2009
2009 June 18 REVIEW Theatre Homoneurotic Cabaret The Judith Wright SAME SAME"Evelyn Hartogh performed a comic exposé of her politically confused and disenfranchised South African family roots. Besides an overemphasis on her family's significant obsession with 'farting' (you try spelling fighting in a South African accent) it celebrated the joy of survival and family issues. "
2009 June 4 Life is a Cabaret CITY NEWS p.8."Colour and glamour are coming to Fortitude Valley. The Judith Wright Centre of Community Arts will clear the stage and bring out the hams tommorow for its Homoneurotic Cabaret. Green Roomm Award Winner Jocab Diefenbach will headline the event, joining New Albuem, Evelyn Hartogh, Christoopher-Piggot-McKellar and David Dellit on Stage. the even is billed as a celebration of Queensland's gay community."
2009 April 24 Don the Cape for some Serious Dancefloor Fun MX p.4."These superheroes have a mission tommorow night to paint the town (and their underwear) red, as part of the Superheroes Ball. Patrons will be treated to theatrical performances, live music and visual art. Top Floor, 99 Elizabeth St, from 7pm."
2008
2008 November 27 West End or Bust Cabaret CITY SOUTH NEWS p.17.
2008 November Featured Contributer QUEENSLAND PRIDE p.8."Long known for her performance art appearances as Wonder Woman and other characters, Evelyn Hartogh has been writing for Queensland Pride since 2000 when she began her long running column 'Pop Cult Sheroes'. She has been involved in queer politics since her undergraduate days at teh University of Queensalnd where she made badges which said: "Bisexuality: Piss everyone off". She campaigned for gay law reform and participated in the 'Freedom of Choice' rallies in the early 1990s. She has two Masters degrees: one in Women's Studies and another in Creative Writing. Between 1998 and 2001 she organised teh Brisbane Pride Festival's queer cabaret, Art Love Jam, which sought to combat youth suicide by offereing an accepting environment for emerging and establish queer and queer-freindly performers. In 2006, after fifteen years of performing her original scripts in Brisbane Venues, she debuted her first one-woman show, the full length play Kick Kiss Kill, at the 2006 Brisbane Festival Theatre Fringe. Evelyn continues to publish and perform as a freelance independent artist. She lives in West End."
2008 July 10 Vibe Socials: Trash Video Cabaret Benefit CITY SOUTH NEWS p.21.
2008 July 1 ANNA HILTON Schlock, horror – video trash is community's treasure MX p.5.
2008 July Carry On Cabaret QUEENSLAND PRIDE p.12.
2008 July Trash Video Chick Picks LOTL p.14.
2008 July Trailer Trash STYLE p.5.
2008 July Carry On Trash Video SCENE p.?.
2007
INTERVIEW 2007 Dec 5 GRAHAM REDFERN Fighting Personal Demons Interview Today Section THE COURIER MAIL p.47.
2007 Dec That Takes Ovaries Ten Excellent Things to do in December LOTL magazine p.13.
2007 Dec 1 That Takes Ovaries Promotional Interview and Reading MEGAHERZ 4ZZZ RADIO
2007 Nov 11 "That Takes Ovaries!" Wonder Woman Hosts A Night Of Celebrating The Bravery Of Women THE WESTENDER on-line-newspaper. "THAT TAKES OVARIES!" WONDER WOMAN HOSTS A NIGHT OF CELEBRATING THE BRAVERY OF WOMEN … Performance Artist Evelyn Hartogh will once again don one of her Wonder Woman costumes, as she did at last year's highly successful THAT TAKES OVARIES! OPEN MIKE event, and will encourage women to share their experiences in a safe, supportive environment. Sasha Jesperson from Amnesty International Australia states, "All women are encouraged to share a story, whether biological or not [and] men are encouraged to speak, but as this event is about courageous women, they must share stories of bold women in their lives; mothers, sisters, girlfriends, daughters" …THAT TAKES OVARIES! OPEN MIKE evenings are run all around the world, originating from Rivka Solomon's book THAT TAKES OVARIES! The book is a collection of stories about brave, bold and brazen women who have had the Ovaries! to face various challenges in life"
2007 Oct 20 THE MERMAIDS NECKLACE Brisbane Short Film Festival MEGAHERZ 4ZZZ RADIO
2007 Oct 17 Mermaid film makes a splash SOUTH-EAST ADVERTISER p.69
2007 Oct 8 One Man's Trash – F****d up Superheroes PEOPLE MAGAZINE p.87.
INTERVIEW 2007 June MELISSA GILES A goirl's [sic] gotta do what a goirl's [sic] gotta do LINK DISABILITY MAGAZINE Vol 16/2 p.2-3.
2007 Jan-Dec (Sept) ROB MACCOL Photo: Miss September Brisbane Entertainer Evelyn Hartogh COURIER MAIL'S VIEWS OF QUEENSLAND CALENDER the Courier Mail's Children's Fund.
2006
2006 Dec 20 Calender honours a true local hero THE COURIER MAIL p. 21."Views of Queensland 2007 calendar QUEENSLAND wonder Evelyn Hartogh, who features in Views of Queensland 2007 calendar. As Courier Mail photographer Rob Maccoll drove towards "Wonder Woman's West End headquarters" he knew exactly the picture he would take. A weathered apartment block, cutting a clear hot sky and fronted by umbrella trees and airconditioning units, it would make the perfect backdrop for "just a true Queensland character". The character was Brisbane entertainer Evelyn Hartogh decked out in her loud Wonder Woman costume. Her photograph is the September illustration of the Courier Mail's Views of Queensland 2007 calendar. "It really shows Queensland and Queensland lifestyle and I thin that's what Courier Mail photographers are good at – recording Queensland lifestyle in their own way," Maccoll, a Walkley Award winner said. The high quality calender costs $14.94 with $5 from each going to The Courier Mail Children's Fund. Order your calendar from www.news.com.au/couriermail or call into our office at 41 Campell Street, Bowen Hills, to pick one up."
2006 Aug 5 Graduates in the News Chapter GRIFFITH UNIVERSITY ALUMNI
2006 Aug 2 DAN EVANS Theatre Fringe Round-Up SCENE #652 p.38 "FRINGE REVIEWS IN A NUTSHELL 'Kick Kiss Kill' Evelyn Hartogh has an MA degree in Women's Studies and Creative Writing [actually two Masters degrees, Women's Studies, Griffith University 1997, and Creative Writing, University of Queensland 2002] which probably explains why 'Kick Kiss Kill' feels like an academic dissertation that's been repackaged in pop culture and made more accessible for a theatre-going crowd. This one-woman-show delivered by Evelyn Hartogh gets severely lost in the translation and descends into a preachy soapbox piece that accuses the audience of being racist, sexist, homophobic bigots. In a nutshell: A great idea that needs to return to the drawing board. HIGHLIGHTS … Evelyn Hartogh simulating sex with two Barbie Dolls" [NOTE: I did this in a puppet show of the creation myth with Ken and Barbie playing Eve, Adam, and Lillith, no dolls were inserted internally] DAN EVANS
2006 July 27 Eccentric Theatrics CITY SOUTH NEWS p.24.
2006 July 27 Three in One, The Vibe CITY NEWS p.35.
2006 July 26 Comedy Pair of Heroic Proportions SOUTH EAST ADVERTISER p.75
INTERVIEW 2006 July 24 NICK BRAY Comic Justice Today COURIER MAIL p.33.
2006 July 15-16 Festival on the Fringe ETC Section COURIER MAIL p.10-11.
2006 July Ev's Wonderous Women will Kick Kiss Kill QUEENSLAND PRIDE p.31.
2006 July 3 FRONT COVER Evelyn Hartogh SCENE #648 p.27.
2006 July 3 DAN EVANS Box Office Critics Pick SCENE #648 p.27. Dan Evans picks 'Kick Kiss Kill'. "Wonder Woman, Barbie and Lillith all in one performance? All facing a postmodern existential crisis? Hell yeah! Why Not? In an age of comic-book movie remakes, it's about time some of these characters migrated to the boards. Writer/ Performer Evelyn Hartogh gives us an altered perspective on some famous pop culutre [sic] icons that promises to be both comical and off the wall." DAN EVANS
INTERVIEW 2006 July 1-2 ANDREW FRASER The Face: Evelyn Hartogh performer Review WEEKEND AUSTRALIAN p.3.
2006 June EVENTS: Kick Kiss Kill THE PROGRAM
2006 June Arty Site Kick Kick Kill BIZOO #25 p.34.
2006 May KICK KISS KILL QUEENSLAND PRIDE, p.7.
2006 April Wonder Woman vs Hollywood SEMPER, p.6.
2005
2005 Oct 5 Brisbane's own Wonder Woman Beats and Pieces SCENE p. 7. "Brisbane's own Wonder Woman, performance artist Evelyn Hartogh, will be a part of the grand opening celebrations of the Fox Gallerie's space @610 Ann St"
2005 Sept 29 Evelyn primed for festival SOUTHERN NEWS p. 8. "West End's Evelyn Hartogh will be Mistress of Ceremonies at the Amnesty International Freedom Festival at The Globe in the Valley tomorrow. The event raises awareness of Amnesty's 'stop violence against women' campaign"
2005 Sept 8 SUE GARDINER Event set to be wonderful CITY NEWS p.14. "WONDER Woman will use comedy as a weapon against evil when she appears at a seven day festival celebrating the interests and creativity of women this week. The superhero, otherwise known as performance artist Evelyn Hartogh, will showcase her unique brand of political satire at Ladyfest …"
2005 Sept Evelyn Hartogh performs as Wonder Woman QUEENSLAND PRIDE, p. 25.
2003
2003 Nov Arts Show Interview Community Radio 4ZZZ FM 102.1
2003 Feb 4 Lampshade Performers SCENE p. 42.
2003 Jan 28 Lampshade Performers & New Babylon Nights SCENE p.32.
2003 24 Jan Lampshade Moments QUEENSLAND PRIDE, p.13. "the artists from highly successful Lampshade Moments at last year's SOOB festival kick off their 2003 season of performances at 7pm … Art Love Jam's Evelyn Hartogh will do a few hat and cane tap dance numbers in drag as Frank Sinatra"
2002
2002 Sept 22 (Not so) Straight Out Of Brisbane Festival QUEENSLAND PRIDE, p.19. "Perhaps her best known performance was vacuuming the Queen St Mall while dressed as Wonder Woman … Among the events at the SOOB festival is Razor Blades And Flouro Wigs a panel discussion on the 'out there' nature of live performance featuring … Queensland Pride's own Wonder Woman, Evelyn Hartogh"
2001
2001 July 6 Art Love Jam 4 brispop.com
INTERVIEW 2001 July 4 BRIDGET HAYES Love is the Answer SCENE MAGAZINE p.42.
2001 July 4 TRENT DALTON Love In BRISBANE NEWS p.12. "When Brisbane performance artist Evelyn Hart0gh first conceived of Art love Jam (pictured) a gathering of performance poets and musicians with a focus on gay and lesbian artists she couldn't have imagined the shape it would take. The first Art Love Jam in 1998 was a low kep but successful event that took place at the Hub café. Word of the gathering ogt around to event co-ordinator James Lees, who picked it up and squeezed it into a larger venue, the Zoo. The second Art Love Jam featured physical theatre performers, acrobats and electronic artists, as well as some very talented writers. By lat year, the Brisbane city council had got wind of the event and donated a government grant to Evelyn so she could pay the artists involved. Art Love Jam 3 was a smash. The Zoo was bursting with performers old and new and punters paying the bills. Art Love Jam 4 is tipped to be the biggest yet and with performers such as poet Dorje Norbu and singer Stephanie Lim, Evelyn concept should happily spin further out of control. The event will be at the Zoo, 711 Ann Street, Fortitude Valley on Friday night"
2001 June 29 Art Love Jam, Q NEWS p.8.
2001 June Community Radio 4ZZZ FM 102.1 Arts Show Interview
2000
INTERVIEW 2000 July 26 LAWRENCE ENGLISH Art Love Jam: Sweet Flavours TIME OFF p.38
2000 July Arts Show Interview Community Radio 4ZZZ FM 102.1
2000 Art Love Jam Website
1999
1999 Nov 11 Wickham Drag King BROTHER SISTER p.25.
1999 Sept 17 Glam Slam Pulse COURIER MAIL p.4.
1999 Sept 16 Evelyn BROTHER SISTER p.8.
1999 Sept 16 Glam Slam BROTHER SISTER p.38.
1999 Sept Arts Show Interview Community Radio 4ZZZ FM 102.1
INTERVIEW 1999 Sept 8 MATT CONNORS Downright Dazzling TIME OFF p.26.
1999 Sept 2 Are You Gorgeous Enough? BROTHER SISTER p.24.
1999 July ANONYMOUS Art Love Jam: A Review SEMPER p36. "Evenings featuring performance art and the like can be very similar to the little girl with the curlk: ie when they good, they're very very good, but when they're bad they're fucking horrid. And this unfortunately, was the latter. Allegedly based on "love being the common denominaotr", the event was a self styled collection of "bards, fools, nightinggales" etc, according to the program, but after wasting half a Friday evening at the Zoo, trying vainly to find some merit in the event, I decided that self gratification was the uniting factor and retitled the event as Art Love Wank. Now I've got nothing against the avante-garde [sic], nothing against groups of people united by their sexualities expressing themselves in unique ways, nothing against challenging notions of fixed genders through artistic mediums. What I do dislike though is self-serving, egotistical "artistes" who are too busy shoving their noses up their own asses to notice the reeking stink of talentless crap. The poetry was dreadful, the singing even worse, and whoever it was that massacred Patti Smith's classic "Because the Night" should know that I have talked to my friends in the mafia and they know what's up! Jesus Christ with an H and a half. Admittedly the acrobats were interesting, as were the rollerskaters with fireworks, but maybe that was because they didn't open their mouths. I don't know. In a month of excellent Pride events, clebrating the diversity of sexualities in Queensland, this was unfortunately a disgrace. To paraphrase a cliché: I know what I like about art, and I didn't like this!" ANONYMOUS
1999 July NATHAN BROOKS All F***ked Up and Full of S**t by SEMPER p.3. "Dear Semper, Re: Evelyn Hartogh's "Barbie and Wonderwoman" article. Evelyn, you're all fucked up and full of shit. Maybe I'm just coming down with a bug, but I felt physically sick reading your pseudo-intellectual, half-assed, femanazi [sic] bullshit. Femanism [sic] should be about equal opportunity for women … that's it. Stop your insecent [sic] whining about humanity realising the differences between males and females. While the rest of society get on with life, you're left screaming at yourself about extremist doctrines of a radical, and permanently obsolete ideology. God help you, coz you'll explode with anger and hatred before any intelligent lifeform takes you seriously. So, GET OVER IT!!!!! Then we can all be happy:)" NATHAN BROOKS.
1999 22 July Art Love Jam, BROTHER SISTER p.16-19. "Love and acceptance will always win out over bigotry and prejudice"
INTERVIEW 1999 July 7 MATT CONNORS Love is TIME OFF p.25.
1999 July Arts Show Interview Radio Station JJJ FM
1999 July Arts Show Interview Community Radio 4ZZZ FM 102.1
1999 June 24 MICK WATSON Film Festival Short on Value BROTHER SISTER p.3. "No positive role model seen instead … heterosexual stereotypes/sex romps, poor visual clarity, distorting sound and even a main character easting a vomit sandwich. Certainly an interesting combination but not what I expected"
1999 June Pride Festival Turns Ten: Art Love Jam QUEENSLAND PRIDE frontpage story.
1998
1998 Summer MIRIAM LO Young Writers: Living the Cliché WESTERLY #4 p.7-13.
1998 July 23 Poetry Festival Launched at Library SOUTHERN NEWS p.30.
1998 July ELLEN Buy Book Review SEMPER p.47."Evelyn Hartogh is a Brisbane performer and writer. Following three successful editions of SOLDOUT comes BUY her second collection of photographs, performances, and essays (1992-97). Each book is handmade, bound, signed, numbered and very colourful Evelyn's performances and essays focus on examining and poking fun at the hetero-patriarchyand its notion(s) of femininity. Many identities and different voices carry Evelyn's "anger, sarcasm and cathartic satire" to her audiences. She draws from mythology and iconography to focus on how women are commodified and fetishised and comments on the silencing of queers. In "Buy" she showcases some of her creations: Baby Doll, Tampon womanand Cyberwhich, as well as giving space to some of my favourite divine/powerful women: Lillith, Athene, Aphrodite and Wonder Woman. "Buy" is very well paced switching between academic essays, short observations, photography and comical satires. These are spread throughout three sections, "Barbie Fetish Commodity", "Identity and Artiface" and "Silences". Being an editor, I couldn't help but pick up on a few syntactical errors, but these do contribute to the homemade, zine-y feel of the book. Evelyn says she wants to "confuse, shake-up and disturb" her audiences" and "infect them with uncertainty till they react with more questions". If you enjoy being challenged and wanna bomb the partiarchy (or if you dig the patrirachy and need a big fucken wake-up call), "Buy" is for you." ELLEN
1998 June Arts Show Interview Community Radio 4ZZZ FM 102.1
1998 June Art Love Jam QUEENSLAND PRIDE
INTERVIEW 1998 March MARGARET SMITHHURST Intellectual Drag SEMPER.
1998 Feb Arts Show Interview Community Radio 4ZZZ FM 102.1
1998 Feb 28 Evelyn Launches Book SOUTHERN NEWS, p.19. "Wonder Woman with a taste for household appliances, Barbie the Performance Artist, Baby doll – trying to catch Evelyn's face before it changes is difficult. Fortunately the 26-year-old Hill End performer has self published her second book of performances, scripts, articles and personas"
1998 Jan 22 Drag Jazz Satire BROTHER SISTER p.15. "Eric Hartogh, who has been performing under the name Evelyn Hartogh since 1992, is presenting a new show and launching BUY a collection of performance scripts and photos … as well as including the comedy satire, that Hartogh has built her reputation on, this show will include more dance and song"
1997
INTERVIEW 1997 Nov 3 META FINNAMORE Eve Hel Performance Artist UTOPIA p.13.
1997 June ALEX HUNEEUS Digital Arts Come Out Down Under wired.com
1997 March EDWINA BARTLEME Bad Girls Come Out To Play QUEENSLAND PRIDE
"Women behaving badly is a fun, creative project which investigates how women subvert and transgress dominant ideologies and lifestyles … a celebratory and critical look at women's lives …"
1997 March Arts Show Interview Community Radio 4ZZZ FM 102.1
1997 March Women's Show Interview Community Radio 4ZZZ FM 102.1
1996
1996 Oct 20 Festival Frolics THE SUNDAY MAIL p.65. "Evelyn Hartogh is not likely to shock easily after pushing a vacuum cleaner down the Queen Street Mall dressed as Wonder Woman. So she will not be daunted by wrapping a few tuna cans around herself in her latest incarnation as Millennium Mermaid. Hartogh, 24, will appear as the fishy Goddess as part of La Boite's Shock of the New Festival, until Saturday."
1996 Oct 17 OLIVIA STEWART Expect the Unexpected What's On COURIER MAIL p.5. "An eclectically clad modern mermaid … innovation, invention and imagination are the priority … MILLENIUM MERMAID [PHOTO: Evelyn Hartogh]: an interact piece combining stamps, sculpture and slide projection, which questions cultural depictions of female sexuality, autonomy and power"
INTERVIEW 1996 Sept 22 NICOLA ROBINSON Plastic Women and Concrete Responses SUNDAY MAIL p.92.
1996 Jan EDWINA BARTLEME Activist Art versus Tradition Wanda: Women in Art BACK UP
1995
1995 Sept 20 Evelyn Hartogh's book Soldout GREEN LEFT "Performance Artist and Feminist Evelyn Hartogh will be launching a book entitled SOLD OUT which documents her work over the last four years. The book features original scripts of her performances including 'Barbie', 'Wonder Woman' and 'Tampon woman'. Hartogh's work seeks to challenge patriarchal representations of women's roles and women's bodies. She will be launching the book with a series of performances around Brisbane. She will appear at Metro Arts on Wednesday September 20 and at the Zoo as part of the Writer's Fringe Festival on Thursday September 28"
1995 June FRONT COVER Evelyn Hartogh FRUIT: A QUEER ANTHOLOGY
1995 May 31 ABBIE MORRISSEY Review of Big Time Small Fi TIME OFF "This well orchestrated event was put together by Chapter Muzik, with an impressive line-up of interstate and local acts and the large crowd that crammed into the disused warehouse was overwhelmed by a feast of the senses. To warm up the evening and provide accompaniment to the food, art and visuals was a solid line up of solo and performance artists. On the musical side of things we were entertained by Paul from the Sump/Under my skin, Pat from Small World Experience and Deb from Wonderous Fair. Performance-wise Evelyn, Jacinta and Nicole rendered some thought provoking pieces ..." ABBIE MORRISSEY
1995 Feb ANONYMOUS Review of Typecast SEMPER. "Evelyn Hartough [sic] stole the show with the women of the Toilet Doilies walking on stilts as she spoke. The fires at the bottom of one of the women's stilts set off the fire alarm, and the crowd of two hundred hot sweating art enthusiasts had to evacuate the premises." ANONYMOUS
1995 Jan Arts Show Interview Community Radio 4ZZZ FM 102.1
1995 Jan 13 Typecast BROTHER SISTER
1995 Jan 11 MOCK-E Typecast TIME-OFF."Evelyn Hartogh is a performance art regular who … has been working with Bartleme Galleries for the last two years and has used characters such as Wonder Woman and Barbie … "
1994
1994 Sept 14 NICOLA ROBINSON Review of Lollie & Evelyn Hartogh SCENE p.11.
1994 July DALLAS ANGGUISH Queer Collaborations iv.
INTERVIEW 1994 June 15 DES PARTRIDGE Women's Role a Real Wonder COURIER MAIL p.4.
INTERVIEW 1994 June 15 GAVIN WALLER Spotlight on Evelyn Hartogh SCENE p.39.
1994 May 15 ANNA ZSOLDOS New Brisbane Street Directory TIME-OFF.
INTERVIEW 1994 April 3 NICOLA ROBINSON Acting Up in the Streets SUNDAY MAIL p.140.
1994 Feb MELINDA MCDOUGAL Women's Show Interview Community Radio 4ZZZ FM 102.1
1992
1992 March Model for Hairy Dog Fashion Parade 7.30 Report ABC TV
BIO SHEROES FANPAGE SHOWREELS INTERVIEWS FLYERS GIGS