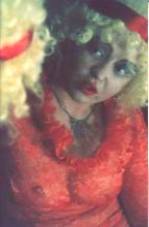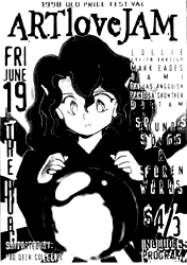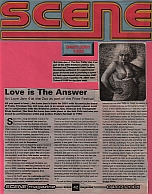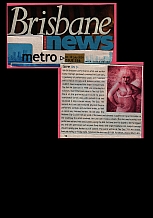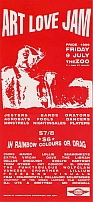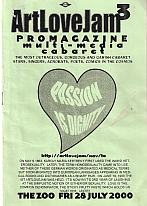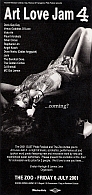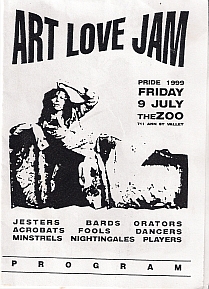 BIO SHEROES FANPAGE SHOWREELS INTERVIEWS FLYERS GIGS
REVIEWS SCRIPTS DOCUMENTATION ART PUBLICITY RESUME SURPRISE
ART LOVE JAM was a queer experimental cabaret, part of The Brisbane GLBTIQ Pride Festival, that I produced from 1998 to 2001. I booked queer and queer friendly avant garde DJs, poets, singers, performance artists, and acrobats and targeted the mainstream as well as the queer press in an effort to unite the two communities under the theme of 'Love: the Common Denominator'. The 1998 ART LOVE JAM was success that The Zoo in the Valley offered themselves as the future venues. The 2000 ART LOVE JAM was supported by a Brisbane City Council Local Cultural and Festival Grant which paid the performers and crew.
MC DOUGALL introduced the acts and read from a 1920s book of manners. LOLLIE was a singer who started out a FAG BAR organised by the late Gavin Waller. She went on to record a few songs, both individually and with Techno outfits like VISION FOUR FIVE. She performed at dance parties, cabarets and art openings from 1990 to 2000. She designed all of her own costumes and hired local artists (and sometimes mechanics!) to produce space age costumes, fairy ball gowns, and doll-like ensembles. DALLAS ANGGUISH curated the performance art component to BARTLEME GALLERIES, as a well as working with curator Edwina Bartleme. He was already an accomplished poet and writer when I began performing for BARTLEME GALLERIES in 1993. He studies Buddhism and now publishes novels. JAMI was a singer/songwriter who was openly out, at a time when this was rare. She continues to compose and perform with a number of high profile professional ensembles. YOOTHA NASIA loved to dress up and was considered by many to be a 'true' performance artist in his costume-like way of dressing everyday. As well as numerous art projects, he ran two nightclubs BUGGERED and UNCO where DJs, bands and performance artists performed. He DJed for the first and second ART LOVE JAM. TAM PATTON is a composer, musician and writer, who still plays in several bands. He DJed for the first ART LOVE JAM. MARK EADES was a writer, poet and photographers model who performed spoken word while wearing a motorcycle helmet that night. VANNESSA CROWTHER was a poet and writer. DARREN BOURNE designed the first ART LOVE JAM poster. EVELYN HARTOGH myself, performed a chapter from my novel while undressing from a Drag King, to a Lingerie Model.
1998 June Art Love Jam QUEENSLAND PRIDE
\MC DOUGALL rollerskated and adlibbed comedy and won over the crowd SWINGSET was LOLLIE's new band for her second ART LOVE JAM performance. BE DIVINE was poet, writer, activist, multi-media performer BENNY DEE. CAT CONCOY was a poet. DAVE THE LIBRAN is a trained juggler and clown, who works in circus. He soon joined THE ROCK AND ROLL CIRCUS, and is still with them today under their new name CIRCA. DALLAS ANGGUISH poet, writer, philosopher. EVELYN HARTOGH myself, began my act in a hed dress of roses over a long black wig with a blue and yellow fur jumpsuit covered in stars and I talked about Lady Godiva's now-mythological naked ride to lower taxes (in reality she was a 12th century noble woman who refused to wear the garments of nobility, and dressed as a peasant, and refused to exploit her workers). I unzipped the jumpsuit and danced in bikini bottoms (the long black wig covered my bare chest) to David Bowie's 'All the Mad Men'. CHRIS MAVER well known actor, singer, writer, drag queen and all round gay theatre personality. SKIN N BONE band with Steven on Trombone and ? on Drums. VANESSA CROWTHER poet. EXTRA VIRGIN acrobats. JAMI singer, songwriter, musician. SEA MONKEYS acrobats. WOLFGLAM THE FANTABULOUS rollerskater, dancer. THOM THE RYMER poet. GREEN LANTERN FILM SOCIETY Bhu Vidya's personal collection of short films and projecters provided audio visual excitements. KISSING BOOTH womaned by KELLIE VELLA and NATALYLA HUGHES. CHRISTINE POLOWYJ designed the poster.
1999 July 7 MATT CONNORS Love is TIME OFF p.25.
"One of last year's bright lights is back for another delicious serving. Art Love Jam was a much talked about component of the Brisbane GLBT Pride Festival last year"
1999 July 22 Art Love Jam, BROTHER SISTER p.16-19.
Art Love Jam – Pride 1999
"Love and acceptance will always win out over bigotry and prejudice"
1999 July ANONYMOUS Art Love Jam: A Review SEMPER p36.
"After wasting half a Friday evening at the Zoo, trying vainly to find some merit in the event, I decided that self gratification was the uniting factor and retitled the event as Art Love Wank. I do dislike self-serving egotistical artistes who are too busy shoving their noses up their own asses to notice the reeking stink of talentless crap. The poetry was dreadful, the singing even worse … admittedly the acrobats were interesting, as were the rollerskaters with fireworks, but maybe that was because they didn't open their mouths … a disgrace …"
1999 Sept 8 MATT CONNORS Downright Dazzling TIME OFF p.26.
PREPARE YOURSELF as the team behind this year's Pride Festival cabaret event Art Love Jam, is back with a new vehicle called Glam Slam presented as part of the APT3 Artist's Club at the Zoo. Glam Slam is billed as a "whirlwind of drag, acrobats, jugglers, music, comedy, beats, performances and installation art "
1999 16 Sept Glam Slam, BROTHER SISTER p.38.
1999 Sept 16 Evelyn, BROTHER SISTER p.8.
1999 Sept 17 Glam Slam, Pulse COURIER MAIL p.4.
"A fabulous fest of talent was dished up at The Zoo with incredibly varied acts such as Sugar Fix, DV Bretski, Evelyn Hartog [sic] Dallas Anguish and Candy Wonderwoman"
1999 Nov 11 Wickham Drag King BROTHER SISTER p.25.
Cheaper Entry For People In Rainbow Colours Or Drag
MC DOUGALL DJ BRETTSKI FREEZONE EVERSEND BILLY DALLAS ANGGUISH VARIO AIR LUCINDA SHAW KRISTY APPS FLUER BALL & GAI LEMON DAVE THE LIBRAN ACROBOTICA BARABRA CARTLAND JAMI DONNA CARSTENS EVELYN HEAR-THROB KABOOBIE HANNAH KELLIE VELLA
2000 July 26 LAWRENCE ENGLISH Art Love Jam: Sweet Flavours TIME OFF p.38.
"If the annual Pride Festival needed any assurance of suport from the community and government bodies, then the grant passed on to fund this years's Art Love Jam is a sign they can't ignore. Coming into it's third year, Art Love Jam is a multimedia event that celebrates the wide array of creative talent that sometimes lies undetected here in Brisbane … Projects like Art Love Jam … provide a sense of community to Brisbane but also ensure that public education and an open dialogue can be maintained … "
$9/$7 Drag/Rainbow/Concessions
MC DOUGALL ANGEL KOSCH DJ BRETTSKI DORIS GAY DAY
GAI LEMON BAREFOOT DIVA GOLDEN CIRCLES VENUS GODDESS OF LOVE DORJE NORUBU JAMI FLAUNT VARIO AIR STEPHANIE LIM SILVER CIRCUS
2001 July 4 BRIDGET HAYES Love is the Answer SCENE MAGAZINE p.42.
"All you need is love … Art Love Jam is back for 2001 with its particular brand of fruity, frivolous fun. Art Love Jam is an annual experimental cabaret event run in conjunction with the Brisbane Lesbian, Gay, Bisexual and Transgender Pride Festival. The first Art Love Jam took place in the Hub Café and was produced by performance artist and author, Evelyn Hartogh in 1998. Since then using the theme "Love is the common denominator" the event has flourished under the direction of evelyn and James lees, event co-ordinator for the 1999 Pride Festival … Art Love Jam provides an amazing platform for LGBT artists … not an ordinary night for performer and audience, which makes it a bright spot on the entertainment landscape … "
2001 July 4 TRENT DALTON Love In BRISBANE NEWS p.12.
"When Brisbane performance artist Evelyn Harotgh first conceived of Art love Jam (pictured) a gathering of performance poets and musicians with a focus on gay and lesbian artists she couldn't have imagined the shape it would take. The first Art Love Jam in 1998 was a low kep but successful event that took place at the Hub café. Word of the gathering ogt around to event co-ordinator James Lees, who picked it up and squeezed it into a larger venue, the Zoo. The second Art Lobve Jam featured physical theatre performers, acrobats and electronic artists, as well as some very talented writers. By last year, the Brisbane city council had got wind of the event and donated a government grant to Evelyn so she could pay the artists involved. Art Love Jam 3 was a smash. The Zoo was bursting with performers old and new and punters paying the bills. Art Love Jam 4 is tipped to be the biggest yet and with performers such as poet Dorje Norbu and singer Stephanie Lim, Evelyn concept should happily spin further out of control. The event will be at the Zoo, 711 Ann Street, Fortitude Valley on Friday night"
2001 June 29 Art Love Jam, Q NEWS p.8.
"An annual experimental cabaret, Art Love Jam … has featured the theme: Love is the common denominator"
BIO SHEROES FANPAGE SHOWREELS INTERVIEWS FLYERS GIGS